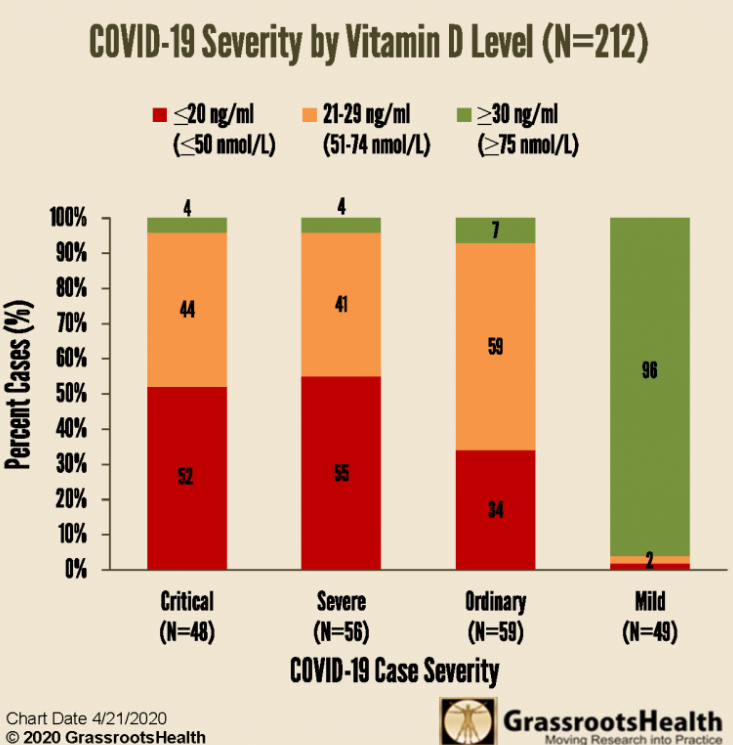 Data on COVID-19 & Vitamin D Levels
Let's look at some of the first data to be published on COVID-19 severity and Vitamin D levels. *Grassroots Health is the sponsor of this data.
I've stated this through my career as a chiropractor – Vitamin D is essential and necessary to have to help maintain a healthy immune response. 
Grassroots Health presented data from 212 COVID-19 patients who had been hospitalized in three separate hospitals in Southern Asia. This is the first published data comparing the severity of symptoms to vitamin D serum levels.
Cases were all confirmed for COVID-19 and were grouped as follows:
Mild – presenting with mild clinical symptoms and no diagnosis of pneumonia
Ordinary – presenting with fever, respiratory symptoms, and a confirmed diagnosis of pneumonia
Severe – cases with hypoxia and respiratory distress
Critical – cases with respiratory failure requiring intensive care
Vitamin D levels were grouped as follows:
Normal – vitamin D level of 30 ng/ml (75 nmol/L) or above
Insufficient – vitamin D level between 21-29 ng/ml (51-74 nmol/L)
Deficient – vitamin D level below 20 ng/ml (50 nmol/L)
The findings concluded that of all the 212 cases was 24ng/ml vitamin D average.
Of all COVID-19 cases
49 (23%) cases were categorized as mild, with an average vitamin D level of 31 ng/ml (78 nmol/L)
59 (28%) were categorized as ordinary, with an average vitamin D level of 27 ng/ml (68 nmol/L)
56 (26%) were categorized as severe, with an average vitamin D level of 21 ng/ml (53 nmol/L)
48 (23%) were critical, with an average vitamin D level of 17 ng/ml (43 nmol/L)
86% of all cases among patients with normal vitamin D levels were mild, while 73% of cases among patients with vitamin D deficiency were severe or critical
For each standard deviation increase in vitamin D level, the odds of having a mild case compared to a severe case were 7.94 times more, and the odds of having a mild case compared to a critical case were 19.61 times more
All outcomes were statistically significant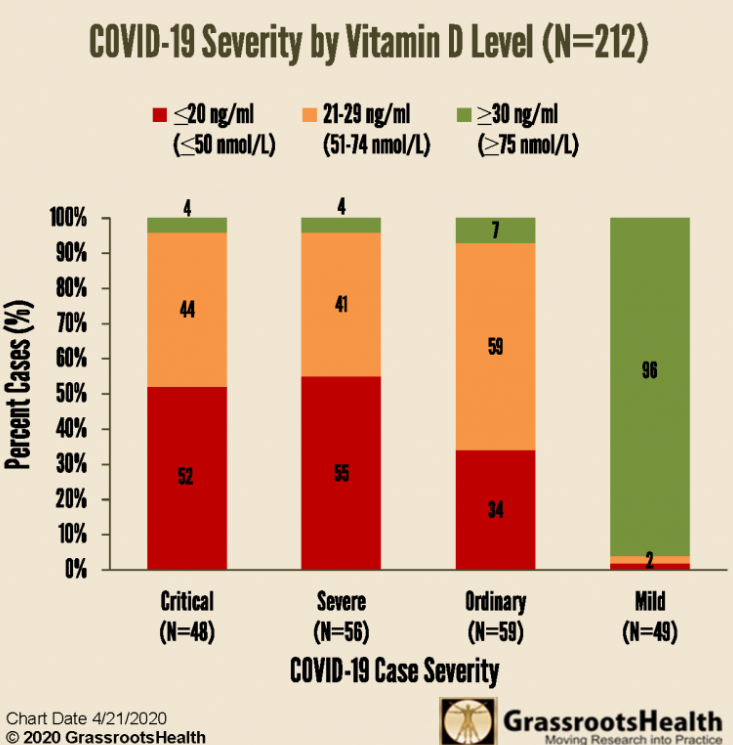 This gives us insight on the evidence that Vitamin D supplementation could reduce risk of the flu, and Covid-19 infections/deaths.
Now let's talk Vitamin D
Taking the right amount of Vitamin D gives your immune system the nutrients and strength it needs to support you and protect you against unnecessary diseases.  Dr. Jen's edit for this article is as follows: The target Vitamin D level for optimal health is 65-70, as you can see in the article above–their target levels are quite old and very low for optimal health.
Ways to up your Vitamin D levels:
Be in the sunlight
Be outdoors
Eat fatty fish, mushrooms, egg yolks, and beef liver.
Take supplements (see our approved supplements here)
 If you have any questions about how you can test for Vitamin D, give us a call at 623-878-1133. We would be happy to help support you through your health journey!